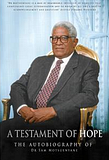 In an article for UJUH, financial journalist Sibonelo Radebe outlines the lessons he believes can be learnt from Sam Motsuenyane's biography A Testament of Hope: The Autobiography of Dr Sam Motsuenyane on how to create a new people's bank in South Africa.
Motsuenyane is the founding chairman of African Bank and former president of the National African Federated Chamber of Commerce (Nafcoc). Radebe relates his description of how organised black business realised their dream of creating a bank for black people in the 1960s.
On the day of the first NACOC conference in 1964, about R70 was put on the table to advance the development of the bank. The target was R1 million which, Radebe says, was the minimum equity required to establish a bank.
Read the article:
From the R70 base of 1964 NACOC traversed all corners of the country to secure a broad based buy-in that came via the R100 per participant. The momentum was boosted by some Bantustan leaders. The contribution of the Zululand government under the leadership of Chief Mangosuthu Buthelezi is highlighted. The 'cantankerous' Chief is said to have been highly enthusiastic and put up R25 000 from KwaZulu. The R1million target was hit and African Bank launched its first branch in 1975 in Ga-Rankua with Dr Motsuenyane as chairperson.

Dr Motsuenyane states that the day African Bank was launched it was blessed by "a tremendous downpour of rain".

"Just after we said 'Amen', the rain came down in torrents," says Dr Motsuenyane. "The streets in the township were flowing with water and people shouting, Pula (rain)… We sang 'Glory Hallelujah' when our long-cherished dream was transformed into reality."
Book details
» read article