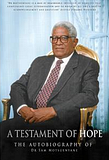 Sam Motsuenyane was honoured with a Lifetime Achievement Award at the second annual Premier Business Awards recently.
Motsuenyane, former president of the National African Federated Chamber of Commerce (NAFCOC), founding chairman of the African Bank and author of A Testament of Hope: The Autobiography, was presented the award by President Jacob Zuma.
"I would like to express my appreciation of the award that has been bestowed on me tonight, an award I didn't expect to receive," said the 87-year-old.

"I want to thank government for the positive, economic black business policy that they brought into existence after taking over power. A lot of positive things have been done and achieved, but I must tell the President tonight that we still have a long way to go. We need to create as fast as we can a society of black entrepreneurs to participate in nation building," said Motsuenyane.
Book details
» read article