Ashraf Jamal Draws Parallels Between Dumile Feni and Frantz Fanon
A sculpture by the late Dumile Feni sold for R6 million at the Cape Town Art Fair last year, and a current exhibition of his work, including never-seen-before pieces – turned heads at Gallery MOMO in Cape Town recently.
In a piece for Financial Mail, Ashraf Jamal hails Feni's "visceral, charged, agonistic" art, which he says "captures a prevailing unfinished story of inequality and dehumanisation".
Jamal compares Feni, who died in 1991 of a heart attack in his favourite record store in New York, to both Frantz Fanon and William Kentridge, commenting that despite his "ferocity", the "Goya of the Townships" is also big business.
Read Jamal's article:
For art professor Anitra Nettleton, Feni "never seems to have softened his approach in order to pander to the sentimentalist demands of the white-dominated market in SA".

And yet, at this moment in time, one finds a curiously voyeuristic interest in the suffering of others, particularly the suffering of the black body which Feni, through his art, and Frantz Fanon, through his writings, sought to liberate from its chains. One cannot therefore ignore the fact that Feni's impressively moulded busts, with their high-Modernist sheen, would look very nice indeed in a corporate setting.

As for the drawings, they reminded William Kentridge, as a little boy, of "down and out scarecrows. But when you came within a few feet of them they would give you a kick in the guts." All well and good, but Feni is also big business. Kentridge, after all, was greatly inspired by Feni's charcoal drawings, though his art has never conveyed Feni's ferocity.
Watch a video taken at the exhibition: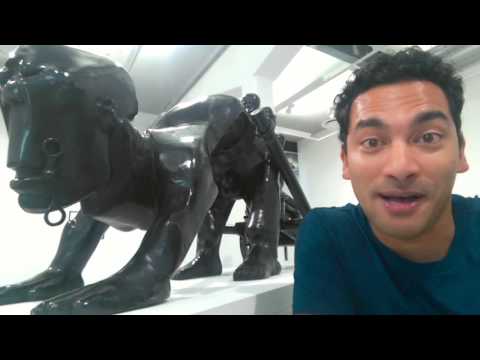 Related stories:

Book details