Sam Motsuenyane: "No Nation Has Ever Gone Forward Without Encountering Ups and Downs" (Podcast)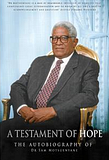 Ashraf Garda recently invited former president and founding member of NAFCOC Sam Motsuenyane to share his story with SAfm listeners on Afternoon Talk.
Garda asks Motsuenyane about his early journey as an entrepreneur, the various projects he has been involved in, his leadership experience and the people he has worked with along the way.
Motsuenyane also voices his opinion of the status quo in South Africa, saying: "What disappoints me very much is that we are not altogether united, especially in our organisations. We keep on encountering problems that leads to disunity. In order to face problems before us in this country we have got to come closer together – black and white, and black and black. We have got to try and form formations that do not have the internal conflicts that characterises our organisations today."
He resolves, however, saying that this is part the reality of being a nation: "No nation has ever gone forward without encountering ups and downs."
Motsuenyane's life story was published recently by KMM Review as A Testament of Hope: The Autobiography of Dr Sam Motsuenyane.
Listen to the podcast:
Book details