Justice Malala Honours Sam Motsuenyane and the Tenacious Founders of African Bank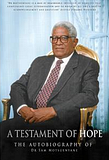 Justice Malala, author of Let Them Eat Cake, has written an article for Times Live about the proud legacy of the people who started African Bank. Sam Motsuenyane, whose biography A Testament of Hope: The Autobiography of Dr Sam Motsuenyane was recently released, is one of these resourceful visionaries.
Malala says that despite the bank's disastrous meltdown at the hand of the current board, the strength and resolve its founders showed are a fortifying testament to what South Africans are capable of.
Read the article:
I want you to cast your mind back to the 1960s. The National Party was enacting one heinous discriminatory law after another. Blacks could not own businesses in the major centres. The Group Areas Act was in full swing. The pass laws were being enforced with enthusiasm.

And a group of black men and women decided to start a bank. What courage, what strength, what resolve. The ability to see light in a dark room, to dream of tomorrow in the midst of a nightmare, is one that no oppressive and murderous regime in the world can defeat.
Book details