Sam Motsuenyane's Papers on Nafcoc Being Used in Book on Organisation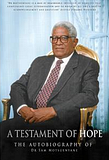 Dr Sam Motsuenyane was president of the National African Federated Chamber of Commerce (Nafcoc) in the 1970s and 80s and the papers he kept from that time are now being used by Kwandiwe Kondlo, who is writing a book on the history of the organisation.
Writing in City Press Dewald van Rensburg describes Motsuenyane as "legendary" and reports that Kondlo has compared his house to an archive of the organisation due to the amount of papers he kept. You can read more about Motsuenyane in his book, A Testament of Hope: The Autobiography of Dr Sam Motsuenyane.
Nafcoc's 50 years are being reconstructed from archives at Unisa and Wits University – as well as papers kept by Nafcoc's legendary president through the 1970s and 1980s, Dr Sam Motsuenyane, whose house basically also contains an archive, according to Kondlo.

Nafcoc has also commissioned a documentary film to coincide with the book.
Book details